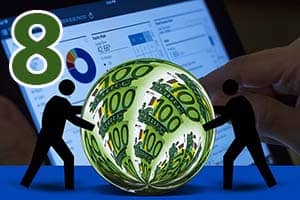 Your advantages
If your birthday is on the 8th, you take to business like a duck to water. You are in your element dealing with finances. Your business approach is creative, unusual, sometimes even unexpected. But in the most cases it works perfectly. People, who were born on this day, have excellent sense of money, which is their main tool in job. So, the best sphere for these people is business. They may found a successful project as they always feel how to do money. As well they are exceptional business consultants due to their constructive vision. They may become a good head of the project or, at least, manager, who rules the main processes of business. However, if you were born on the 8th, managing employees, you may be a little bit tyrannical.
Not everybody understands your original approach. That is why you require total freedom in your actions. The most difficult for you is equal partnership, where you have to explain your decisions and get the approval of the partner. To avoid conflicts and intrigues it is better to be the only person who rules the process. It's not necessary to go opposite your nature and share leadership with the other person if you can handle all by yourself, including large and difficult projects.
Your achievements and your prosperity make you proud of yourself. It is normal because you work much to have results. You like much admiration and applause of others. It is the reason you demonstrate your success buying expensive things.
Your imperfections
You are an extra demanding person. You are very strong and hardworking, that is why you cannot understand people who don't have plenty of energy and abilities to be like you. Your requirements are explainable, but you must understand that all people are different and everyone has his/her own level best. People may try and reach their potential and it is not enough for you, but it is the best for them. You have to be more patient and loyal.