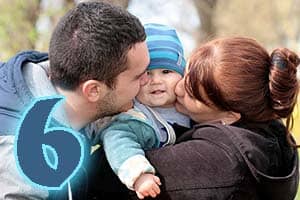 Your advantages
People, who were born on the 6th, are family-oriented persons. Relationship is the key thing in their life. Such people crave for making others happy and for helping other people. Usually, these people are good healers, nutritionists, masseurs or therapists. Very often they are found of acupuncture. Natural responsibility is reflected in job of such people. They always take care about results of their work. And they always do what they promise.
If you were born on the 6th, you have a gift to set disagreements between people; moreover, you can make both sides of dispute satisfied. You have a talent to find golden mean. Your mission is to bring balance in intricate things. You have to understand the essence and nature of opposites and to find harmony between them. You may fulfill your mission in any field of life (work, relationships, emotions, play, health, finances). Just try to find right direction of your actions.
Your imperfections
You are a rather confiding person. It is easy to get your sympathy just with the help of flattery. Praise, weather it is truthful or just flattering, influences you magically. It happens because you have a need to be appreciated. The other side of the coin is criticism, which is able to hurt you much. It is necessary to remember that criticism may be just as well as unrighteous. Don't take it extremely deeply to your heart. You are very emotional, sentimental and kind person. You are a good listener. Don't lose your good and warm energy for people, who are not able to value it. Instead of it, develop your talent to heal people, it will bring you fruits.