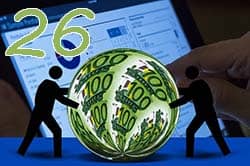 Your advantages
Money and finances are the areas of your luck. You are an inborn leader and have business oriented state of mind. Your methods are creative, interesting and innovative. You know when to use pressure and when to weaken control. The inner feeling that you have leads you brilliantly.
Your reasoning is clear and concise. You can properly control and organize any process. You have a clear view on prospective, as in the larger scale, so you see the details. You are a person to rely on and large projects are rather motivation for you, than a challenge.
You are honest with yourself and people around. Your life goals are practical and achievable step by step. You obtain amazing oratorical skills and can influence people greatly.
You have high standards for yourself and so you do expect from society. The attributes of status like houses, cars, clothes are very important to you. Some people think that you are boasting, but from another point of view you can do it, because you got these things yourself.
You enjoy to be praised and like when people admit your achievements. However, you are not vain and always ready to help. People like you are understanding and reliable. The prosperity of a community is often a reason of the efforts of people with birth day number 26.
Your shortcomings
Your main issue is in reaching a harmony of material goals and humanistic ones. Your engagement in business can make you sharp, judgmental and snobbish, though as a person you include lots of humanistic characteristics. Don't let yourself become cold-hearted. Your ideology of living should avoid radical conceptions or non-humanistic attitude towards others.
Not everybody can reach the heights like you did. People are different and it makes this world unique. Remember that every person bears his or her own burden through life and people cannot be measured by your one and only scale of success.