Your advantages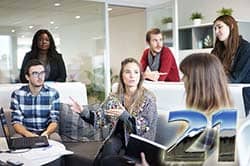 You are gifted with unique creativity and determination for success. Communication skills and skills for persuasion are simply your trump cards. People quickly get along with you. The imagination you have is impressive; you are a generator of ideas. Your imagination is manifested in everything you do, in the way you speak and how you carry yourself. You are filled with inner energy and able to make lots of good things for people around and your imagination may serve as a tool for boosting a quality of life. People are amazed by your wit and humor.
You are skillful in oral and written activities. You can be a great show host, leading singer, screenwriter etc. You like to be in the limelight and people around know that the party is when you are. You can make great salesperson as you are talkative and persuasive. You are an amazing lover, because you are passionate and imaginative. However, most of the time, you get love rather than give love, because it is easy to love you, but for you things are more complicated.
Your disadvantages
Your main problem is in finding the right place for you, where you feel comfortable to implement your ideas. You should become more independent and able to generate ideas and create plans for their implementation no matter to what place you belong now. Searching for a better place where to start is another procrastination from living now.
You are easily influenced by the actions and words of others. Sometimes you are emotionally instable and tend to exaggerate, don't let your imagination ruin your reality.