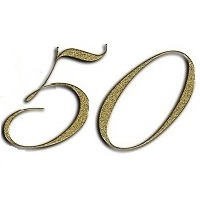 Number 50 is a number of Holy Spirit. The ascension of Jesus to heaven is some kind of the first fruit among resurrected. In 50 days after the day of Ascension, the Pentecost starts. It is also called a First fruit fest, a day when Holy Spirit descended to 120 righteous people, who believed and acted good. It was God's first metaphoric harvest of righteous and good spirit among human beings.
In order for people to reach salvation and to be saved, Jesus needed to put his sacrificial blood (which is symbolized by number 30) to the temple of satisfaction (symbolized by number 20), so the sins of people were taken away and Holy Spirit (symbolized by total of 50) became available for everyone.
Number 50 is a symbol of freedom, release and new cycle. Every 50 years in the day of Atonement people needed to honor the Jubilee, a day when all the loans and debts were forgotten and forgiven to the one who took a debt, and all the slaves were released, and all the things taken were turned back to people they belonged to. It was a day when harmony was established.