NUMEROLOGY HOROSCOPE 2018 PREDICTIONS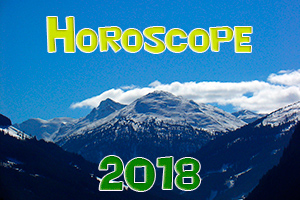 2018 year has a lot to offer to you, if you want to find out what to expect and how to reach all the goals and fulfill your desires in life this year, check your personal number for 2018. It is time to figure out which steps to undertake on the way to a better life in 2018. Your personal number reading for 2018 will assist you with it.
2+0+0+1+8 = 11
This year signifies a fresh stream in the track of numbers, opening a way to master number being in charge. 11 is a number that bears an intense spiritual meaning, bringing global changes and leading to lots of events and innovative solutions. The changes will be unstoppable in 2018. So, it is up to you whether you want to use the moment and to bring up new phase of your life, or you chose a calm pace.
2018 is a year of spirituality, so you will pay lots of attention to your inner world, as well as to the structure of the Universe. Numerology only offers the tools in order to help you understand all the bounds that are not superficial.
AVOID AGGRESSIVENESS TO ATTRACT HAPPINESS
In 2018 it is all about controlling hot temper and being calm in any situation. The main lesson most of us need to learn is a lesson of a proper timing and patience. Often there would be situations when all we need to do is to patiently wait for things to build up the way needed. Your worst enemies in 2018 are provocative behavior and boldness, especially if you plan to start new projects or bring your ideas to life.
The best way for you to get what you want in 2018 is to be rather calm and cunning, than reaching everything by force. Be open-hearted, dependable and genuine with every person you care for this year. Also, it is a year of search, especially of self-exploration, so the top priority will be to find a place you feel comfortable in, both in career and private spheres of life.
Pay attention to the readings below, as they will help you better and more precisely understand what 2018 has to offer.
Calculate your Personal Year Number
Input your date of Birth:

PERSONAL NUMBER 1 – NEVER EVER STOP

Lots of the problems that have been bothering you for the last few years will finally be resolved. You will feel a great relief and lots of free space will be available for yourself, creativity, and stuff you genuinely like. Your life will slightly change. Your career life will bring its fruits, and you can expect your love life to be enhanced as well. Don't be afraid to try something new, as 2018 favors all the new beginnings you undertake. 2018 is an opportunity to change the things you regret from the past. Stick closer to your family, when the time comes, they will be your main source of positive energy.
Do not stop, try to develop yourself. Pay attention to each opportunity on your way. Contact more people and enjoy the positive phase of your life.
PERSONAL NUMBER 2 – ESTABLISH SOCIAL CONNECTIONS

The start of the year might be a little bit rough for you, as the aftertaste of 2017 would be bitter. The situation will change in March, when the period of challenges and grey times is over. It will be a test for people around you, as after this time you will understand who is your real friend and who is only a contact in your list. However, it is very important to keep calm, to watch your words. If you let yourself to lose your temper, you will not be able to fix I anything after, as a result you will only add yourself a problem. In 2018 your romantic life gets higher in priority. Generally, social relationships will mostly determine the way your year goes. You really underestimate the power of social interaction and connections, in career and personal sense.
PERSONAL NUMBER 3 – SELF-ESTEEM BOOSTER

In 2018 you need to forget about being shy, and try to develop and manifest your personality as bright as you can. You are worth of more in this life, and you are able to achieve it, as 2018 favors you. As soon as you feel self-sufficient and independent, you will see how many prospects the life has for you. Most of your ideas promise to be successful. All the ideas in your head have a good potential, so if you wanted to start something, this year fits your ideas. All the tasks you perform will get better and bring you more success in 2018.
You will feel the uplift and lots of enthusiasm for actions. However, do not scatter yourself on multitasking. Determine your main goals, divide them into smaller step and you will definitely succeed. In 2018 you will not only be inspired by others, but people around will consider you as a source of their motivation. A great year for you!
PERSONAL NUMBER 4 – CONSISTENCY IS A KEY

In 2018, you will become more aware of every step you need to take, as your self-exploration will bring some results and your every step will become clearer. The destiny favors you and all your starts. Take advantage of this time as more, as you can. It is a very prosperous period for business owners with personal number 4, the things will be smooth and easy. Some problems might appear on your way, but you must be consistent in confident in your actions, so everything will be fine and even better. Shift your focus from the speed to the quality of everything you do. Also, don't forget about your family, as there will be times when both sides will need help of each other.
PERSONAL NUMBER 5 – SUCH A GREAT YEAR

This year is simply amazing for you. It is hard to imagine opportunities better than those waiting for you in 2018. Almost everything that you do is going to have positive result. Any trouble on your way will be easy to overcome and the results will be even better than before. Take initiative, make spontaneous decisions, write down your ideas – use your potential. However, do not lose your focus, try to think over your every decision. Don't be afraid to act, but try to extract the maximum benefit from it.
PERSONAL NUMBER 6 – AND ACTION!

The first quarter of the year will be rough. However, nothing can stop you this year, as you can find any way, even quite extraordinary one, to go through everything. This year you are very strong, your inner core will guide you to the right direction. Everything related to money will bring you positive outcome in 2018. If you are fast, flexible, attentive and open to innovations – 2018 will be a year of success for you, as it favors people with such set of characteristics. However, don't forget about your friends, as you might be busy. Your house and related matters will also be important in 2018.
PERSONAL NUMBER 7 – CONCENTRATE ON INNER YOU

This year you will put the main emphasis on your inner world. It is time to understand your real desires and goals in order to make this year different, to feel inner harmony and satisfaction. 2018 will be very profitable for you, if you find strengths to concentrate and do everything with determination. The more you communicate with others, the better. You will have time feeling lonely, but not because you have no one by your side, but because you are afraid to open. So, try to spend time with friends and family, speak about the things you are concerned about. It is not a year of rush. Stay calm and balanced, everything has its time.
PPERSONAL NUMBER 8 – RESULTS DRIVEN

You will feel the inflow of energy, it will open slightly different side of you. You might become more self-sufficient, independent and results driven. It is very important to keep up balance for you this year, as you might push too hard, and in 2018 with such attitude it is complicated to achieve the results you want. Your past will bring you troubles, but you will tackle them easily. Don't doubt yourself and your ideas, follow your desires and act when you are sure that you want to get it. Perfect year to change yourself.
PERSONAL NUMBER 9 – THE START

It is a year of contemplation and looking back in order to make two steps forward. You will find answers for questions and concepts that were on your mind for years. Use your mistakes from the past to expand your wisdom and avoid similar steps in 2018. This year is going to be really positive for you, as the new good phase begins. If you suffered from dark period in your life, it has come to an end. Your friends this year will be your source of energy and inspiration, so try to spend more time with them. Romantic life will progress in 2018.