Numerology Horoscope 2017 Predictions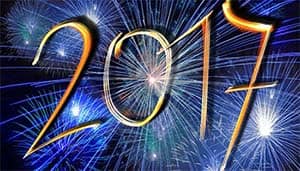 The assistance of numbers is very significant. It may greatly aid you in many ways. Consequently, it is essential to read numerology horoscope 2017! The numbers cab affect our lives in a good or bad way. Knowing their value and properties, we will be able to escape mistakes and use this aid to our advantage.
The predictions for the upcoming year will give us the answers to many questions. Thus, you will learn what to expect in love affairs, relations with other individuals, possibilities of getting promotion in career or the dependable ways of earning some solid income.
The upcoming 2017 is a great year of multiple changes and huge progression. Many of the most desired hopes and dreams may come true while this year lasts. You can reach all of your goals if playing the right card. You only should be attentive and learn all the peculiarities that may be awaiting you.
This is a great year of tremendous potential, handful of promises and possibilities. You will reflect your previous deeds and will come to accurate and right conclusions. You should not stop and try to correct all of your previous failures. You have all chances to do everything as you hoped.
Have a closer look at the free numerology 2017 forecasts that are stated below. They explain the meaning of various numbers.
Calculate your Personal Year Number
Input your date of Birth:

Personal number 1 - get various insights

The next year says that you will find the solutions for many private issues. You will feel as if the weight of the world is finally taken off your shoulders. It will open before multiple capabilities. You will be able to alter your way of life, which will not harm you. You will reach what you want in career and love affairs and so on. You will be able to use all the novel opportunities to your advantage. All the mistakes of the past may be fixed. Do not forget about your dearest people. Their role in your life is huge and it is one of the keys to your general success.
This is an excellent opportunity to change your personality and advance. You will meet new people and will have attractive job offers. Remain focused and believe in yourself.
Personal number 2 - Give other people a thought

Get prepared for the tough times in the beginning of the year. Up until March, you will be facing multiple challenging situations. There will be a lot of stress and nerve tension. Probably, you will even lose some of your good friends. Therefore, you have to watch your words. Your emotional stability will be shaky and may say the words, which you will greatly regret afterward. Pay more time to the personal matters. Your romantic life will in focus. However, the relations with your family members and your collaborators will be also important. Try to become more sociable and part your thoughts ideas to others. They will appreciate your help. This may bring you fine profits.
Personal number 3 - A belief in yourself

The time has become to step out of the crowd and shine with your incredible personality. You are able to overcome all the troubles and reach the greatest heights. You will gain great self-confidence. This will positively reflect on your life in each sphere. Even your routine duties will become more interesting and will bring you great joy. All of your ideas and projects seem to meet a tremendous success. You should only catch the needed moment and start the action.
You will be dynamic thanks for enormous heaps of energy inflows. Turn them into a constructive action. You will be optimistic and joyful. You will forget about the word "negative". Everything will be "positive". You will have a high level of inspiration. You will be innovative and successful. Both, the beginning of the year and its second part will be fortunate for new initiatives.
Personal number 4 - Hard work pays off

Right now, you will obtain more confidence in what you are doing. Your ambitions will reach a novel quality level, which will bring you multiple dividends. You will meet luck in every business. It will be easy to achieve any goal. Do not stop and develop your success in all possible ways. You have to encourage yourself, as there will appear many impediments in your way. However, with a real desire and good fortune, they will be easily solved. Pay more attention to the domestic matters and your duties at work. You should act in accordance with a well-planned strategy to increase your income while this year would last. Remain focused on your main tasks and organize yourself.
Personal number 5 - Expect some changes

There will a lot of impressing and favorable happenings in the year 2017. It is a very lucky year for you. No matter what will happen, you will be always ready for action. You will be capable of overcoming any obstacle. You will easily act in a spontaneous manner and any sudden change would never seriously bother you. Your head will be overcrowded with fine ideas and you will manage to realize most of them. Your business will run well and you will prosper in the course of the entire year. You should be determined and reasonable.
Personal number 6 - Your head and your heart

The first three months of 2017 will not be too easy. Nonetheless, you will find enough strength and originality to face all the problems. You will prosper in the financial aspect. You should be active, act quickly and precisely. Under such conditions, you will be able to cope with anything. There may open novel opportunities in your career. You will improve your relations with family and friends. Do not hesitate but act!
You should devote more time to the domestic matters and the interaction with a member of your family. Thus, you will strengthen your ties. Put to the usage all of your previous knowledge and experience. It will benefit you in the end.
Personal number 7 - Find the right path for you

Though others will tell you that you are looking strong outside, you will know that it not the same inside. There will be multiple inner conflicts, which you will be obliged to face. You will doubt many things. However, you should not lock up inside of yourself. The year can turn to be utterly fruitful for you. Do not isolate yourself from your closest people. This is the time when they can help you. Do not haste. Take time and think the matter over. You find reasonable explanations and change your strategy for a maximal profit. You have all the opportunities to take the upper hand over your destiny. You will find the needed way out.
Personal number 8 - Daring objectives

Right now, you will impress everyone with your ambitious character. You will become more daring and this will help you in reaching success in your projects. Mind that some of your previous mistakes may follow you in the next year. You should leave them out and concentrate on the new starts. What's is done and you should move on. You can cope with all impediments. You know the answers and the right answers. Act quickly and with confidence. Do not show weakness and you will win.
Personal number 9 - Uninspired?

This is a very favorable year to fix all the mistakes of your previous deeds. There will come great insight and you will be able to reflect everything. You can use it to avoid making the same failures in the upcoming year. Quite soon, you will realize that your future may be happy and successful. Your life will appear to be very bright and pleasant. The dark days are behind. You can achieve all that you wish if really wanting that. Pay more attention to your friends. They may hugely help you in reaching your goals.