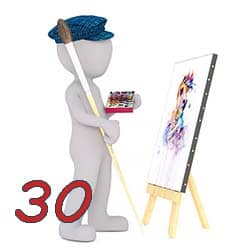 Your advantages
You are gifted with artistic talents. All sorts of artistry are open to you and you can succeed in all of them. You may not choose art as your main field of specialization, but always consider it as a hobby in order to be in continuous progress of your individuality.
Your sense of humor is hilarious, your mind is sharp as well as tongue. You are very inspiring person that charges everyone with positive energy. You are sensitive and unable to hide what is going on in your soul properly. You are honest with yourself and always trying to be so with others.
Your sense of taste in music, clothing and food is exquisite. People admire your aesthetic feeling and admit your unique style. Your taste also manifests in food. People born on the 30th day of the month are gourmets and usually see food as more than just a way of nourishment. Taste and sensual feelings have an important place in your life.
Your shortcomings
You are exposed to mood swings. The lifestyle of yours demands more focus and when you are unable to concentrate on something the feeling of huge disappointment in yourself makes you sad even more. You need to see a clear vision of your goal, even a small one. Don't let your talents and amazing taste become wasted.